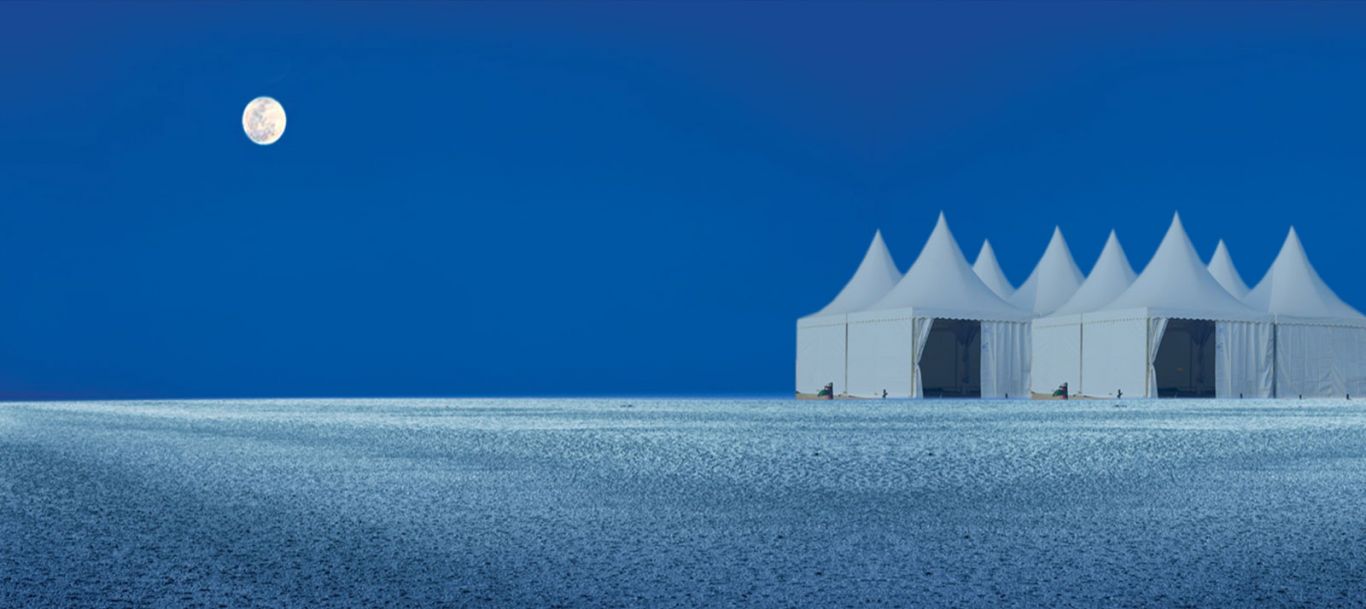 Hiking, biking, skiing and customized Fernweh tours.
Focus on growth, challenge
and achievement.
Rann Utsav
(2-Days and 1-Nights)
Includes
Meal
Car
Hotel
Sightseeing
The Rann Utsav – Tent City is a specially built temporary city that captures the ethnic beauty of rural Kutch while providing a memorable experience. Sprawling across an area of 5,00,000 sq. mt., it is the largest tent accommodation in India.

Located 85 km from Bhuj, The Rann Utsav – Tent City is set up near the village of Dhordo. A lavish escape it takes more than 2 months to set-up. The entire festival hosts thousands of visitors from across the world with more than 350 hospitality personnel working at different levels.

The tents at Rann Utsav – Tent City are arranged in C-shaped clusters, while additional spaces include two separate dining halls, each spanning approximately 1,200 sq. mt. Also included is a reception area to welcome the guests, a conference hall for large gatherings, a club house for indoor sports, and a café and rejuvenation centre for recreation. The handicraft bazaar provides local artisans a fantastic platform to showcase their work, while the activity area is used for a range of performances and entertaining shows.
Bhuj to Rann Utsav Tent City
Check-in time: 12:30 PM
Transfers from Bhuj to Tent City, Dhordo on fixed timings:
08:15 AM From Railway Station, Bhuj and Airport, Bhuj
10:30 AM From Railway Station, Bhuj
02:30 PM From Railway Station, Bhuj
03:30 PM From Airport, Bhuj
Individual transfers (on chargeable basis). No transfers will be available after the above mentioned timing. Allotment of tents to guests arriving before check-in time, will be subject to availability.
Distance from Bhuj to Tent City, Dhordo is approx. 85 km, which takes about 1 hr 45 min. and Complimentary refreshments will be served en route Dhordo in the bus
Arrival at Tent City, Dhordo from Bhuj 10:00 AM
Onwards 12:30 PM Onwards Welcome & Check-in
12:30 PM to 02:30 PM Lunch at respective dining area
02:30 PM to 04:00 PM Enjoy in-house activities
04:00 PM to 05:00 PM Evening Tea/Coffee
05:00 PM to 05:30 PM Transfer to White Rann to witness the grandeur of sunset. Mode of transfer can be through Camel Cart/Bus on first-come, firstserved basis. Guests will have to return by the same mode of transfer.
07:00 PM to 07:30 PM Return transfer to Tent City, Dhordo
07:30 PM to 10:00 PM Dinner at respective dining area
08:30 PM to 10:30 PM Enjoy the culture of Kutch along with entertaining activities

 
Meal: Lunch,Dinner
Rann Utsav- Bhuj
06:00 AM to 06:30 AM Morning Tea
07:30 AM to 08:30 AM Breakfast at respective dining area
09:30 AM Check-out from Tent City Departure to Bhuj w ith a complimentary sightseeing on the way
Meal: Breakfast
Package Inclusions
To and fro transfers between Bhuj (Airport/Railway Station and Dhordo Tent City, in A.C. Coaches on SIC basis)
Complimentary refreshments will be served enroute Dhordo, Tent City in the bus.
1 Night/2 Days package includes Lunch, High-Tea & Dinner on 1st Day and Morning Tea and Breakfast on 2nd Day. The meals will be served as per scheduled time in respective dining areas and missed meals will not be refunded or extended on 2nd Day.
Accommodation in Tent is on twin sharing basis.
Two bottles of drinking water per day per tent will be provided.
 
Package Exclusions
Rates on single occupancy basis will be 75% of the basic cost (75% of double occupancy amount).
In case of triple occupancy, any person above 6 yrs. of age will be charged as extra person (with mattress).
Child below 05 years will be coplimentory sharing with parents tent.
In case of late arrival at Tent City, guests will not be entitled for missed meals or other activities.
In case of early arrival at Tent City, guests may be required to wait at the waiting lounge till the availability of the tent.
Rates on single occupancy basis will be 75% of the basic cost (75% of double occupancy amount).
In case of triple occupancy, any person above 6 yrs. of age will be charged as extra person (with mattress).
Any incidental, personal and other expenses and cost of items which are not specified/mentioned in the inclusions are to be borne by the guest.
The vehicles used for transfers shall not be at sole disposal of guest.
This is an indicative itinerary & subject  to change depending upon circumstances at the sole discretion of management.
In case of late/early transfers for check-out, guests will have to inform while check-in at reception counter for arrangement of vehicle and it will be on a chargeable basis.
All tents are Strictly Non–smoking areas as per Government rules.
Guests have to follow the house rules and applicable laws of the land.
Important Notes
Any amendments with respect to change in check-in dates would attract 15% Amendment Charge. Amendment in date can be made maximum 15 Days prior to the scheduled arrival date.
Any change in guest/guests names would be treated as cancellation and would attract cancellation charges as tipulated. For any 
Organiser reserves all rights to make any changes without prior notice.
Please note that the cooling of A.C. in the vehicles will be maintained as per the temperature comfortable to the majority of guest present in the vehicles. 
Pick-up and drop-off are only from Bhuj Airport or Bhuj Railway Station by AC Coach as per scheduled timings.
The voucher issued in respect of the package for Rann Utsav is to be furnished compulsorily along with Government approved valid Photo ID proof of each guest at the reception counter at the time of check-in; for foreign nationals it is mandatory to furnish valid Passport & Visa.
In case of a delayed arrival of Train or Flight, the guest will be transferred to Dhordo, Tent City in the next available transfer.
WRCH reserves the right to cancel reservation without any prior notice in case of any Central/State Government Event/Meetings/Visits or any unwanted natural calamities. In which case, alternative dates can be set or full refund will be given.
Management is not responsible for the loss of personal belongings of the guest. Guests are requested to take care of their belongings.
White Rann is a unique natural formation. It's subjected to whims of nature. WRCH does not assume responsibility in respect to formation of Rann or any other unexpected changes.
The timing of transfers to and from White Rann and /or Kala Dungar may vary accordingly to the sunset timing & climatic conditions.
Distance from Tent City to White Rann is approx. 6 km. It takes approx. 40 mins by Camel Cart. Guests are requested to come early to catch Camel Cart so as to reach before sunset.