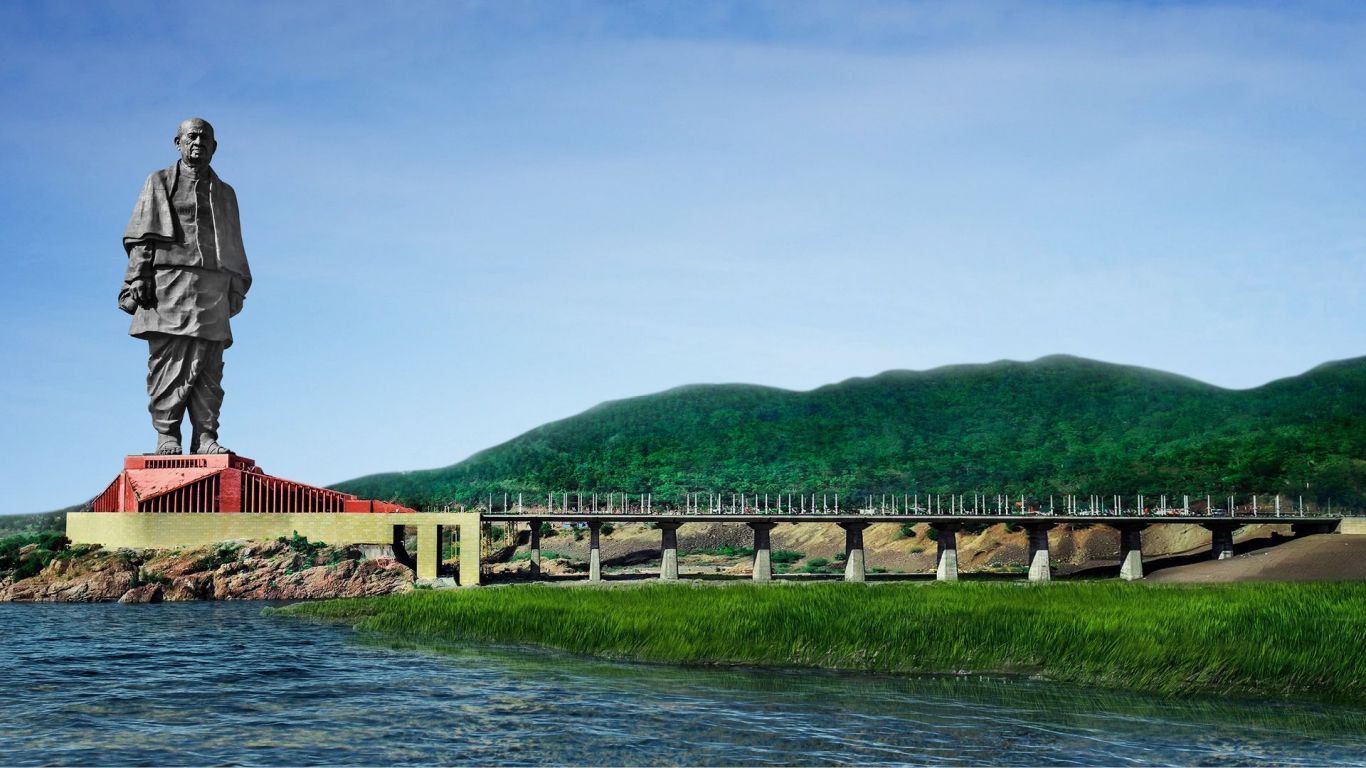 Hiking, biking, skiing and customized Fernweh tours.
Focus on growth, challenge
and achievement.
STATUE OF UNITY
(2-Days and 1-Nights)
Includes
Meal
Car
Hotel
Sightseeing
A TESTIMONIAL OF INDIA'S SPIRIT OF UNITY IN DIVERSITY

Since time immemorial, architecture and monuments have given India her identity. From historical Ajanta & Ellora caves to Delwara Temple of Mount Abu and from Taj Mahal to Meenakshi Temple of Madurai, Indian architecture showcases its elegance and superiority across the globe. The most prolific creation in recent times, the Statue of Unity, is the World's Tallest Monument. It represents more than a colossal structure facing the Sardar Sarovar Dam on the river Narmada. It is an iconic symbol of the 'Iron Man', who played an important role during India's freedom struggle and thereafter in the unification of the princely states. It reminds the world of the towering personality of Sardar Vallabhbhai Patel, the nucleus of India's integration as a united country.

It was the wit and whip of this 'Iron Man' that 562 small and big princely states unanimously agreed to become an integral part of India. The elucidation of the Statue directly correlates with the meaning and value of unity. While, it is one of the finest interpretations of the designers with its modern construal, it also symbolises and describes the quintessence of the statue to visitors. The world's tallest statue is an engineering marvel that was constructed in merely 46 months.

Sardar Patel, respected for his commitment and drive, took up the challenge of convincing all the princely states using diplomacy and peaceful means, or the iron hand when needed.

The impressive landmark commemorating Sardar Patel's contribution to unification dovetails into several social development programmes such as improved transport and connectivity, institutions of research, education and tribal development, tourist facilities and other social infrastructure.
DAY 01
12:00 PM                    –  Welcome & Check-in
12:30 PM to 02:30 PM – Lunch at the Dining Area
02:30 PM to 04:00 PM – Visit to Sardar Sarovar Dam View and Selfie Point, Valley of Flowers on SIC (Seat-in-Coach) Basis
04:00 PM to 06:00 PM – Visit to The Statue of Unity on SIC (Seat-in-Coach) Basis
06:00 PM to 06:45 PM – Light Refreshment 
07:00 PM to 08:00 PM – The Statue of Unity Laser Show on SIC (Seat-in-Coach) Basis (Subject to show/ticket availability)
08:00 PM to 10:00 PM – Dinner at the Dining Area along with Live Music
Meal: Lunch,Dinner
DAY 02
Day 2

6:00 AM to 06:30 AM – Morning Tea
07:30 AM to 09:30 AM – Breakfast at Dining Area
09:30 AM – Check-out from Tent City with happy Memories
Meal: Breakfast
Package Inclusions
Complimentry Pick up & Drop at Kevadia Railway Station
01 Night -02 Day Ac Accommodation
Welcome Drink on arrival 
Morning Breafast,Lunch, High Tea with Cookies & Dinner
SOU Entry Ticket 
Narmada Dam Viewing Pointe Sightseeing
Valley of Flower Sightseeing
At Evening Cultural Activity & Music Dance in Tent
Important Notes
Statue of Unity Will Reman Closed Every Monday 

Statue of Unity Visit Time 09 AM to 06 PM 

 

 
Hotels not available for this package