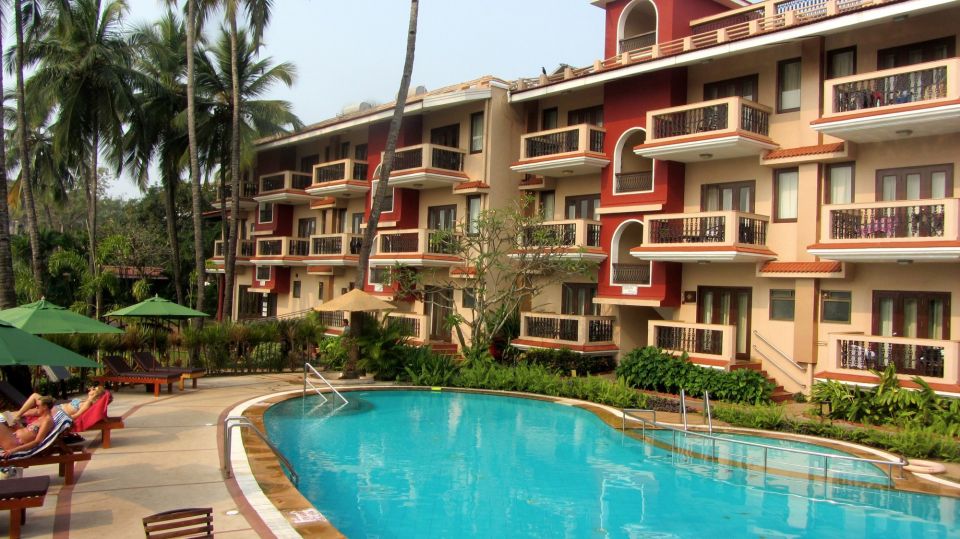 Hiking, biking, skiing and customized Fernweh tours.
Focus on growth, challenge
and achievement.
LAZYLAGOON SEROVER PORTICO
(4-Days and 3-Nights)
Includes
Meal
Car
Hotel
Sightseeing
that part of the Baga creek where the lagoon flows into the sea. And this is just one of its best features. The 4 star resort is an easy walk to the three main beaches of North Goa, Anjuna, Baga and Calangute and the various curio shops, flea markets, night life and interesting hangouts that dot them. The rooms have their own share of beauty, with the blissful view of the lagoon and the pool from the balcony being a standard feature. This upscale resort spells value for money and is ideal for both leisure and business travellers or an offsite. The guest rooms have an air of "susegaad", which is Goan for relaxation and a choice of restaurants complete your need for everything that is deliciously fulfilling.
We are sorry; No Itinerary Information available for this package. For any query please feel free to contact us. We will get back to you within 24 hours.
Package Inclusions
Stay in a well appointed Air-Conditioned accommodation for 3 nights and 4 days
Complimentary Buffet Breakfast at Balcao from 0730hrs – 1030hrs
MAPAI – Either of (Buffet TDH Lunch or Dinner ) OR Food credit of Rs. 2000/- for 3 nights
APAI – Buffet TDH Lunch and Dinner OR Food credit of Rs. 4000 for 3 nights
Beverage credit of Rs. 1000/- for 3 nights
Complimentary Combined AC coach transfers for pick up and drop(Airport or Thivim Railway station)
Taste the local flavor – Welcome drink on arrival
Complimentary use of Tea /Coffee maker in the room and replenished once during the day
Complimentary two bottles of packaged drinking water placed once during the day
Complimentary Goan wine placed in the room after arrival
Half day North Goa sightseeing in AC coach 0930hrs – 1330hrs (Fort Aguada / Calangute / Baga)
Half day South Goa sightseeing in AC coach 1430hrs – 2030hrs (Churches Old Goa/ Miramar Beach / Boat Cruise)
Complimentary use of Swimming pool and Gym with proper attire
Newspaper in the room
Free WiFi on browsing for two user
20% discount on Spa
 
Important Notes
Package is for 3 nights and 4 days and extendable further on Pro Rata basis
For stay of 2 nights – 75% of the total package will be applicable
For stay of 2 nights – only one half day sightseeing to North Goa will be provided as per the fixed schedule at the
resort
Pickup / drop / sighseeing would be on sharing basis.
Sightseeing would be on sharing basis as per the timing mentioned and resort scheduled days. Scheduled days
are Monday / Wednesday / Friday / Saturday
Sightseeing would be conducted for full day – First half North Goa, Second Half South Goa. Between 1230hrs to
1430hrs guest would be at the resort.
For stay of 2 nights – Food credit & beverage credit will be on pro rata basis
For extra Child / Adult in superior room only Extra mattress would be provided
For Children below 5 years and requirement of extra bed / mattress, Rs. 500/- would be charged
All superior rooms are twin bedded and could be joined on request
Madgaon station pick up or drop will be charged extra @ Rs. 1200/- one way
Check-in time is 1400hrs and Checkout time is 1100hrs. Early check-in or late checkout could be provided
subject to availability and extra cost.
Children below 6 years and above 2.5 feet in height will be charged Rs. 300/- extra for the boat cruise
For confirmation of the reservation 100% advance to be paid
Price Details
Child without Bed
₹ 4,999
Hotel Details
LAZYLAGOON SAROVAR PORTICO
GOA